Wednesday morning saw me back on the tinca trail on my local water, arriving as normal before first light I settled into the swim I had been baiting now since the weekend. The night before I had been down and spodded another couple of pints of bait in to one spot and there were signs of fish around as I saw a couple of backs break the surface. The rods ready clipped up from Monday were cast into position and I sat back waiting for events to unfold.
Again though the day dawned still, the sun strong and little in the way of any ripple on the surface. Soon enough though the alarmed rod on my heavily baited spot sprang to life and a fish was on, it was another spirited fight and I was unsure if it was the intended tench or a good bream. It turned out to be the latter and my best from this venue at 5lb 12oz.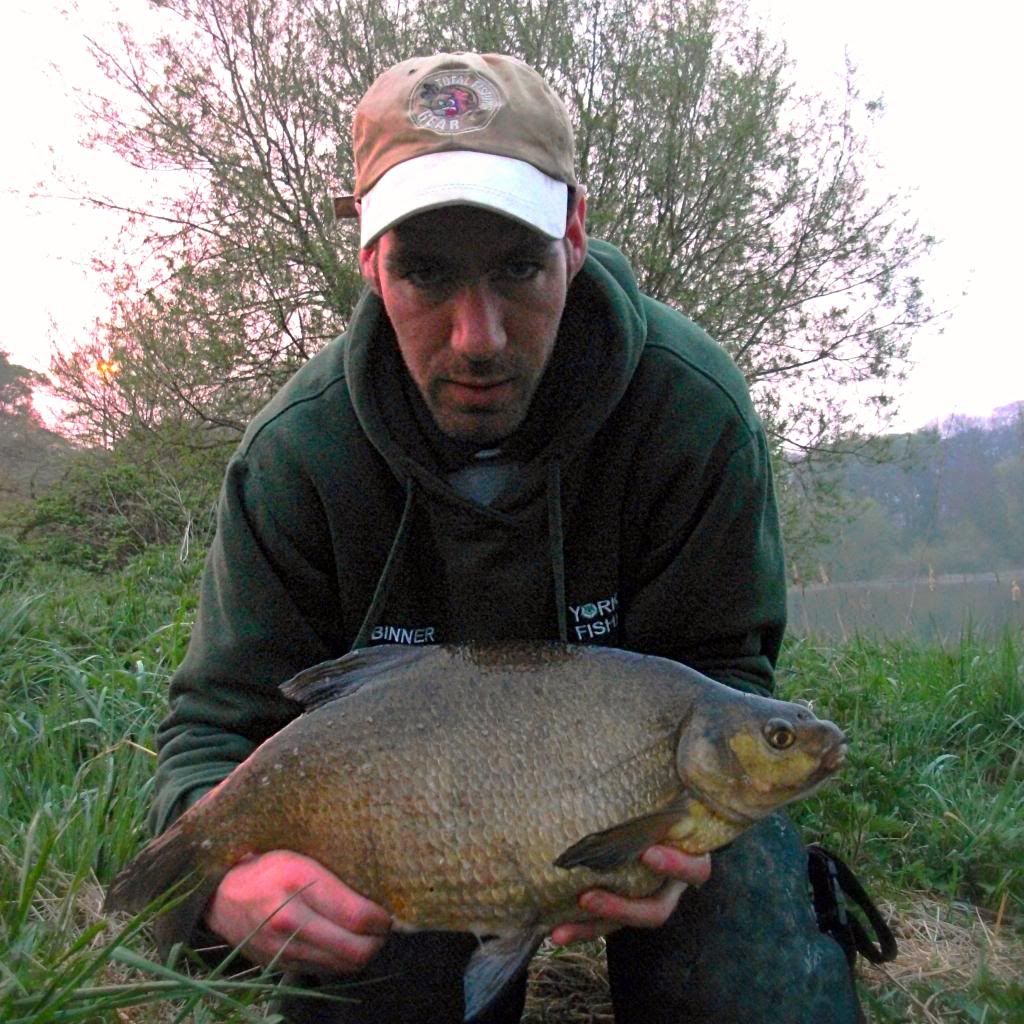 I was expecting more to follow but as had been the same on Monday with the lake flat most of the time and the temperature rising much higher than of recent the fish refused to bite.
Today saw me back for one last bite of the cherry before its back to work next week. My spot had been primed every day now for a week, I arrived this morning just after 4am to find too bloody carpers had set up in my chosen area and just cast their rods out. I've never felt the need to swear on my blog before but I was seriously pissed off!!! This left me with two options, head to the left where the now strong southerly was blowing or head right to a swim that involved wading out further and due to the lay of the land sitting on the edge of a large patch of that horrid black stinking silt stuff that was just covered with water.
Now who in their right mind would chose the one on the right?
I did! Based purely on the fact it has been producing a few fish this year but as it started to rain I was questioning my sanity. However my choice paid off and after only half an hour or so one of the rods was away, at first I thought it had come adrift then thought it was a small fish until it saw the net and me knee deep in stinking black silt. It was a tench, only a small one though around 21/2lb and it then decided to go nuts like those small splasher barbel do. It was a nice sight though to see that some young fish are coming through.
Soon after the bream turned up and I had 3 fish between four and five pounds in the next 90 minutes or so and then lost another fish again. JD turned up to join me and after collecting some bait he headed to the swim to the left I decided against earlier in the day and I landed another good bream of just over 5lb and lost yet another. It had now turned 8am and what is traditionally on here the start of a quiet spell. At around 10am JD decided he had had enough of blanking and sitting in the full force of the wind and was off elsewhere, I did comment as he left that sometimes they come back on around 10 but he was off.
As if by magic as soon as he was out of sight the alarm signalled a one toner, I picked up and bent into what felt a good fish. I had just started to gain some line when it set off again and snapped me clean off. Gutted, I wound in and sorted the rig and chucked back out. It had not been out there more than ten minutes when it was off again, bream number 5 soon hit the mat after another good scrap. These fish have obviously not read the rule book as they tend to pull back a bit, even with 1.75lb Tc rods and 8lb line.
It was just after 11, all had gone quiet and I was thinking of calling it a day whilst chatting to a couple of officials from the club when one of the rods when into melt down again. This time though after leaning into the fish I slackened the clutch off a touch as for one reason or another I seem to be loosing a quarter of all the fish I'm hooking so far this year. This fish felt better and I knew from the off it was no bream, as the club officials looked on I waded out to meet the fish and let out a little cheer as another stunning looking tench hit the back of the net. I felt sure it would go 6 however it managed 5lb 8oz, still fresh from its winter slumber I guess. All of the fish today were again taken on feeder tactics using my CSK groundbait and a combination of real and fake maggots on the hook.
It turns out the club were down to do some survey work with the EA to look at what can be done to tackle the weed and silt problems the lake suffers with, and as they were going to be working their way around the shallow water poking and prodding from a boat I called it a day.