What a difference a week makes eh? I even had my coat off today. I was up and out of the house at not much after 4am this morning and was pleased not to be met by a freezing blast for once. Arriving at the lake it was clear the fish felt the same today, for the first time this year(from what I have seen anyway) there were signs that the fish were around and feeding.
As is quite common on here during the week I had the place to my self and headed straight to my first choice swim and with the rods clipped up ready to go it was just a matter of setting the alarms up, putting some bait on and away we go. Well that is exactly what happened too! With fish showing well out I cast my long range rig first. This was baited with 2 rubber casters and a real one glued to a short hair and arranged so as to look like a small pile of free offerings. Before I had even finished spodding bait out the alarm sounded into life and a nice 4lb bream hit the net.
I finished the baiting up which consisted of 6 spods full of dead maggots, casters, hemp and corn over each line plugged with my new CSK ground bait I was testing. The feeders were filled with the same with a good sprinkle of the spod mix mixed in too. Once that was sorted I got both rods out and soon had another bream of around the same size. It then went a little quiet until around 7am when out of the blue one of the rods roared of and I knew this was no bream. I was correct and my first tench of the year graced my net.
By now the wind had dropped, the lake was flat calm and the morning sun felt much warmer than it had all year, this did do as I expected though and no more bites were forth coming for well over an hour. At around 8.30am I had to put my coat back on as the wind had picked up and scattered clouds kept blocking the sun, this had an almost immediate effect on the fish as they suddenly went on the rampage. First up was another bream before the tench moved in, 2 landed over the next hour all between 4 and 5lb plus two unfortunate breaks and another bream.
It was soon 10am and I had to start thinking about heading home as the other half was working and I had to take the little one to nursery. Out went both rods for the lucky last cast. First away was the far rod, the way it screamed off I was expecting another tench but the slow plodding nature gave the game away. It did give a good account of its self though and a solid 5lb bream wallowed into the net.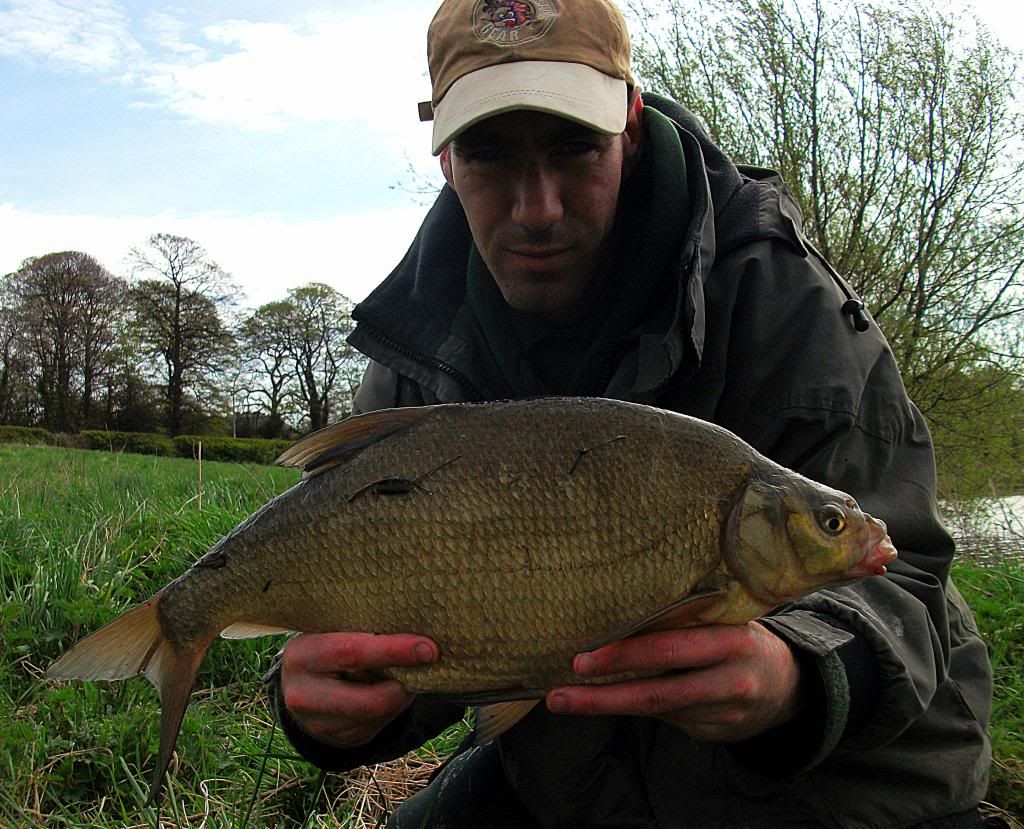 Unbelievably I was still holding the fish in the water to recover when the other rod screamed off, this though was no bream and the fish took line on more than one occasion, once close in it made a couple of determined attempts at getting into the reeds but i was more than ready for it and it was soon laid on the mat. As with the bream, this one turned out to be the biggest tench of the day at a shade over 5lb. O how I wish I didn't have to head home. Luckily I have all next week off work and will be spending 3 days on here with some baiting up in between.